REFILLING YOUR GAS CYLINDERS HAS NEVER BEEN SO EASY!
To refill your cylinders, just click the button below, fill out the form, and send it to us. Refrigerant Boys will collect them free of charge (minimum 15 cylinders). Once we have refilled the cylinders (only the valid ones, as described), we will send you an email with the total amount to be paid.
If you are interested in new refrigerant gas cylinders, equipment for the refrigeration world or chemical products for system diagnosis and maintenance, visit the appropriate sections of our e-commerce.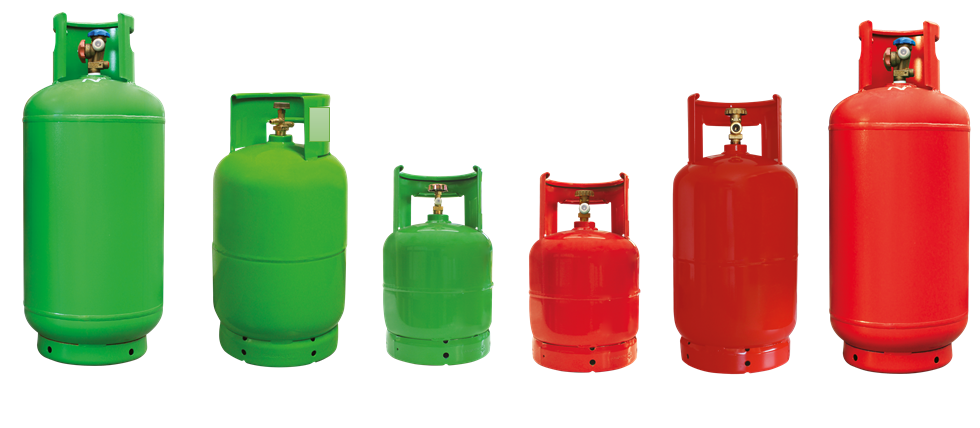 Cylinders
Green for refrigerant gases class 2A
Red class 2F according to directive 2010/35 / UE T-PED
Rechargeable EN 13322-1- threads 17E / 25E
Pressures 36/48 bar
WHICH CYLINDERS CAN BE REFILLED?
The refilling service of used cylinders is carried out by Refrigerantboys only under certain conditions, in compliance with the laws and regulations in force. In particular, make sure you fall within the following parameters before requesting our top-up service:
The cylinders must fall within the T-PED Directive (Pressure Equipment Directive, commonly called PED by the English name Pressure Equipment Directive)

The cylinders must be in good condition, without showing dents and / or breaks.

Withdrawal of empty cylinders and return full at our expense with charge on the invoice of the cost

Minimum quantity 10 cylinders

Cylinders on a pallet.

For R410A gas Cylinders 42-44 bar minimum

For gas R32-R600a-R290-R1234yf Red cylinders with valve tap W21.7 × 1/14 ″

For gas R134a-R404A-R407H-R407C-R422B-R449A-R452A etc. 36 bar cylinders
Check the expiration date on the cylinder bead (valid for 10 years)

TERMS AND CONDITIONS FOR REFILLING THE CYLINDERS
Refrigerant Boys S.r.l. reserves the right to inspect the cylinders upon arrival to make sure they comply with the regulations in force and meet the characteristics listed above. In the presence of non-conformities, we cannot proceed with the refill. In this case, we will recommend to replace the cylinders with new ones (we will ship the old cylinders with the new ones).